The Bluewater Boathouse, near Hotel del Coronado stands stately on a recent rainy evening. The restaurant mimics the beautiful Hotel Del architecture, lovely by day or night. Hornblower Cruises offers a lovely dinner cruise, passing under the majestic Coronado Bridge with a view of The Del and the Boathouse.Consider Hornblower for its popular Sights and Sips.
The Coronado Bridge, opened in 1969, is becoming a
symbol of San Diego, much like the Golden Gate to
San Francisco. A Hornblower Cruise goes under it.
'THE ISLAND' HAS CHARM, EXCITING DINING, GREAT THEATER, A CLASSIC CALIFORNIA HOTEL
STORY By CHRISTENE MEYERS
PHOTOS By BRUCE KELLER
Coronado has the feel of a small town, with fine food, plays,
fun shopping, a relaxed environment, bicyclers and the beach.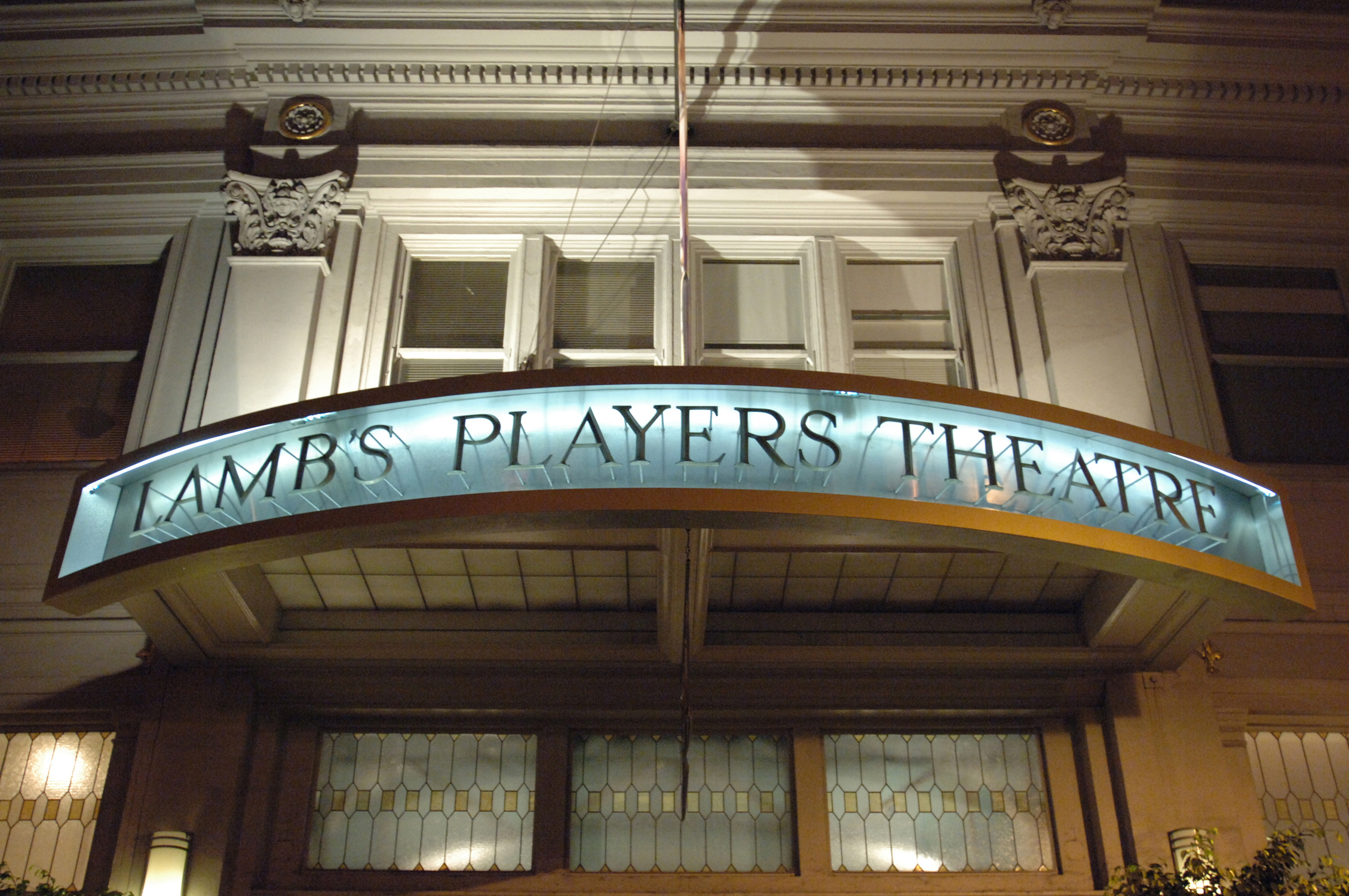 Lamb's Players Theatre offers delightful, professional plays,
including the current hit production of the farce "Noises Off!"
WE'D SAILED UNDER
the impressive Coronado Bridge many times with our favorite Hornblower Cruises. Finally, I drove across it, viewing Coronado from land rather than sea.
The occasion was a play at the famous Lamb's Players Theatre on Orange Street. My husband, a San Diego native son, had long raved about the theater and its prime location on Orange Street, the main artery. He loves theater and the bridge and said the Hotel del Coronado was a must. As theater junkies, bridge climbers and vintage hotel fans, a visit was a fine way to satisfy those interests.
"Coronado has the feeling of a village," Keller said as we parked. He was right.
SITUATED JUST
across the bay from downtown San Diego, Coronado has maintained its "small town" feel with a lovely beach, charming shops and attractive restaurants. It's a walkable town, where locals and tourists mingle -- a pleasant blend of stollers, bicyclers, dog walkers and vacationers enjoying cocktails or a leisurely meal. We joined other play-goers on Orange Avenue for a drink and supper after an excellent matinee at Lamb's Players Theatre.
ITS PERFECT BEACH
is often voted "best in the U.S." My surfer husband says its waves are gentle and appealing.
The stately Hotel del Coronado is an easy walk from the beach, Lamb's
Players Theatre, a choice of fun restaurants and colorful galleries and shops.
We're fans of fine old hotels and Hotel del Coronado is that and more. Built in 1888 it is beloved by Hollywood stars, dating back to Charlie Chaplin, Lucille Ball and Desi Arnaz. "The Del" has 25 films and TV shows to its credit. At least a dozen presidents have visited and "The Wizard of Oz" author L. Frank Baum stayed at the hotel for years, writing his Oz series there from 1904 to 1910. Marilyn Monroe's "Some Like It Hot" was filmed at The Del.
FOUNDERS ELISHA
Babcock
Sailboats dot the bay on a recent sunny day, viewed from the Coronado bridge.
and Hampton L. Story would be pleased. They dreamed their seaside resort would be "the talk of the Western world." They designed the slope of the charming main street and laid out the village for family homes, shops, and romantic inns and cafes to appeal to vacationers.
CORONADO WAS
a baby when "The Del" was built -- just a few families. Now it is home to over 25,000 people. Coronado isn't exactly an island, connected to the mainland as it is. The architecture and easy-going feeling are part of the allure. Its lively appeal includes Mexican influence, old-world military personnel, beach culture, Hollywood glamour and its unique local history. For my money, the best way to enjoy a view of the spectacular Coronado Bridge and Coronado is to take a Hornblower cruise -- dinner cruise is ideal -- and watch Coronado light up.
lambsplayers.org; hornblower.com; hoteldel.com
BEST BET
: "South Pacific" opens at Horton Grand Theater in San Diego. As a youngster, I saw Mary Martin "Wash That Man Right Out of My Hair" and love this grand old musical. It's not only a stirring love story, but a lesson on tolerance. San Diego Musical Theater opens the beloved musical this weekend, through May 27.
The famed Cannes Film Festival opens soon, and we'll take you there.
****************************NEXT UP
: Cannes. Long the most famous of festivals, it's time for the Cannes Film Festival in southern France. We take you to the Cote d'Azur, one of the first modern resort areas of Europe, to look at the stately architecture, sail boats, casinos and restaurants. Remember to explore, learn and live and catch us each week when we post a fresh take on travel, the arts, nature, family and more.