NATION'S FIRST AND OLDEST NATIONAL PARK TREASURE DRAWS NATIVE DAUGHTER BACK AGAIN
Bison grazing and the steam of geysers in the background, two classic Yellowstone attractions.Covid can't diminish the pleasures.

STORY By CHRISTENE MEYERS
PHOTOS By BRUCE KELLER
Bruce Keller and Christene "Cookie" Meyers in Yellowstone.
The two make an annual trip now for the 14th year.
A PILGRIMAGE through Yellowstone National Park in "Covid times," takes adjusting to. But the nation's first national park is still glorious.
First, though, you'll be greeted by a masked ranger. Instead of handing park maps and updates with a bit of welcoming chit chat, he or she slides the papers through an opening with a special extension arm, and appropriate distancing.
We missed some of the most visited attractions of the park, hoping to make another trip later when autumn casts its golden cloak over this beautiful part of our world.
THE UPPER Geyser Basin is part of every visit, since Yellowstone has nearly half of the world's geysers.
It's still a wonder to behold, even though one approaches with a mask. We miss making pleasant eye contact with happy people from all over the world. It's fun to observe the surprised expressions and satisfied smiles. Covid masks hide them but we know they're there.
A drive up to Lake Hotel and a stroll to the lake is a must for us, even when we're not staying there. The beautiful lobby usually features live music and the restaurant is the most elegant in the park. Lovely Lake Hotel was built in 1891 and is the oldest operating hotel in the park. Some rooms are closed, but we found one for $365, if you're interested. There are cheaper places to stay, though, including the nearby Lake Cabins.
The graceful 1891 architecture of Lake Hotel captivates, here the veranda.

An elk gives a bird a ride and a rest near our favorite Roosevelt Arch.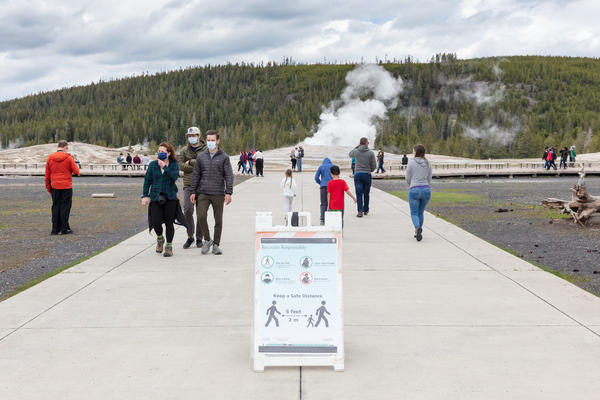 Masking is part of park protocol, here at Old Faithful.
ONE OF OUR favorite Yellowstone spots is that colorful exit through Mammoth and Gardiner where we always pose by the iconic Teddy Roosevelt Arch. This triumphal north entrance arch symbolizes to me the enduring aspect of the park, even with Covid. We also visit Grand Canyon's Artist Point view of the Lower Falls, always full of cars and campers, but we find fewer people at Lookout Point, a stunning vista of the falls, closer to Canyon Village with an active osprey family. We enjoyed a hike into Fountain Pots near day's end, when crowds thinned. Early morning and late afternoon are the best times to see the wonders, including bison aplenty.
GUESTS ARE for the most part practicing physical distancing, but that's tough when people are eager to see the waterfalls, critters or geyser spoutings.
The park's management, Xanterra, has implemented extreme hygiene protocol in the lobbies, at registration desks, counters and food areas. We saw sanitizers all around, at check-in stations, reception areas, hotel lobbies, restaurant entrances, elevators and exercise areas. Hard surfaces and public spaces are cleaned twice as often, we were told by a reception worker. Room cleaners at Lake Hotel spend particular time with high-touch areas. Unlike past summer before the virus, it is possible to book a "short notice" room.
CHECK WEBSITES
though, because offerings are changing daily. As of this posting, select lodging is available at Old Faithful Inn, Canyon Lodge and Cabins, Lake Yellowstone Hotel, Grant Village, Old Faithful Snow Lodge, Old Faithful Cabins, Lake Cabins, and Mammoth Hot Springs. Gateway towns offer lodging, too, in West Yellowstone, Big Sky, Cooke City, Red Lodge, Livingston and more. Check
usparklodging.com/yellowstone/ or hotels.com
The Sibelius Monument in Helsinki honors the famous composer.

UP NEXT: There are plenty of places hurting from the decline of the travel industry. But Scandinavia is opening up and Finland will begin admitting foreign travelers again next week. On Aug. 11. Many restrictions are removed or lessened. With that good news, we take you to Helsinki, Finland's southern capital. A highlight for us is the Sibelius Monument, honoring the great composer. Remember to explore, learn and live and catch us Fridays for a fresh look at travel, nature, family and the arts: whereiscookie.com